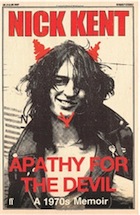 … dispatches from the front line of rock n roll at a time when music journalism still mattered. Nick Kent was only 20 when he started writing for the NME and within a couple of years was one its most well-known writers. This was a time when the music papers (NME, Melody Maker & Sounds) really could make or break a band. A feature in one of those papers meant you had started to make it big and an appearance on the front cover made you a bona fide star, without question. It's hard to imagine now a time when there were no blogs, no online audio players, and very few ways for artists to communicate with fans. Only the extremely privileged few  got to write reviews of new albums or break the news of a new tour or release and so music journos like Kent were, to a large extent, indispensable for the bands trying to retain their places at the head of rock's dining table.  Kent was close to most of the biggest names in rock during this period, including Led Zeppelin, the Stones, the Sex Pistols, David Bowie and Iggy Pop and also shared their insatiable appetite for hard drugs of all description. Kent's story is the ultimate 'rise and fall' tale; within a couple of years of his writing career he was sharing lines with Iggy Pop and partaking in 48 hour benders with Keith Richards. Later he was drafted into Malcolm McLaren's devious plans for domination of the UK music scene, and was briefly a member of a proto-type Sex Pistols. He bailed early on and later fell victim to violent betrayal by McLaren, who set Sid Vicious on him with a bicycle chain. By 1977 he was homeless, penniless and hopeless, utterly dependent on drugs and devoid of the writing powers that had elevated him to the height of his success in the first place.
The book starts off as an enthralling ride into the heart of darkness. Kent regales the reader with tales of rock n roll excess as he hangs out with the good, the bad and the ugly of rock n roll royalty. As a reader you sense that Kent is heading irretrievably towards a dead end but can't help sharing the naive abandon that characterizes the writer's  behaviour. By the mid 70s, the realisation that something pretty awful is just around the corner seeps into the narrative and the final third of the book is an utterly compelling, nightmarish exploration of drug addiction in its most harrowing form, at a time when little help was available to those under its spell.
Kent is at his best when he is most cynical, debunking some of the myths from that decade that have permeated music history. Those who have never signed up to the inexplicable consensus that Queen's Bohemian Rhapsody is one of the classic moments in British rock history will delight in his analysis: "theatrical, pretentious and meaningless, faux classical music for high-brow poseurs with low-brow attention-spans, kitsch masquerading as art". A chance encounter with Bob Marley and the Wailers in a studio toilet, in which Marley takes exception to Kent having interrupted his spliff, puts a small dent in his seemingly unimpeachable reputation. "In the years that followed", Kent surmises, "Marley and his media enablers would convincingly fashion a public image of the man as a quasi-mystical deity that millions would unquestionable buy into, but my brief encounter told me he was as deeply flawed as any other …" But it is Kent's analysis of the British punk explosion that is perhaps most revelatory. Kent scorns the notion that the 1970s produced little of any musical value until the Sex Pistols came and blew away the cobwebs. His portrayal of Malcolm McLaren as a cunt of the highest order will surprise no one, but the idea that punk's zenith really began and ended in the US with bands like the Ramones, the Stooges and Television is a convincing one; bands who had the talent but not the ability to harness the mood of a disaffected youth in the way the London contingent did. Recalling a Slits gig in 1977, Kent laments:
"Watching them in the early days shrieking and stumbling cack-handedly through their tuneless repertoire was as grim an experience as going to get my wisdom teeth removed by an incompetent dentist. How had this concept that you could legitimately stand onstage holding an instrument even though you couldn't actually play the thing taken root and why was no one else viewing it as a musical version of the emperor's new clothes?"
Kent writes with disarming honesty about his addiction, in a not dissimilar way to Irvine Welsh through his protagonist Renton in 'Skagboys'. Unlike many autobiographical accounts of drug addiction, he does not seek to blame anyone but himself. Throughout it all, his love of music illuminates the pages. Kent may have gained a reputation during this time as a stargazer and a hanger-on (he was, by all accounts, despised by many of his colleagues and those on the fringes of the music scene, and on more than one occasion found himself on the wrong end of a serious beating) but his writings illustrate that it was always the music rather than the personalities that motivated him.  The book finishes with a compendium of the best records of the decade; armed with this you'll have a field day on Spotify.
N.B. at some point in the book, Kent mentions, in withering terms, one of the journalists he worked with at the NME, Julie Burchill whose "vibe could best be described as Myra Hindleyesque". Ironically, her poisonous response only serves to confirm everything Kent has to say about her.