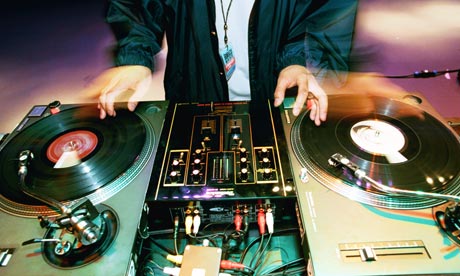 Mixes. Where would electronic music be without them? In a scene which seems to cascade into further genres and sub genres on a monthly basis, and with the digital marketplace showering us with a frankly unmanageable amount of new music, they often provide the easiest way to unearth the gems from the latest avalanche of releases. With  the big boys of the online press like Fact, RA and XLR8R offering regular mixes from stellar DJs, it's becoming increasingly easy to saturate your terabyte of memory space with seamless waves of unholy electronica.
Yet because of their ubiquity, the DJ mix remains transitory in its nature. Generally they don't carry the same emotional weight as the mix-tape that your best mate at college made for you and certainly they don't pierce the consciousness in the same way an album does. A mix constitutes an hour of optimal accompaniment to the commute to work, the daily jog or a way of blissfully blocking the banalities of your working environment for an hour or two. And then they're gone. You're unlikely to revisit them because there's always another round the corner.
But there are of course a few exceptions. There are some mixes that transcend that transitory sphere and find a place in your soul alongside your favourite albums. They're the ones where the crafting of disparate tracks into a coherent whole is so adept and the finesse with which the tracks are sewn together so delicate, that they make an artistic statement as strong as an album and, in the mind of the listener, the DJ takes the same credit as the producer or songwriter.  Everyone will have their own. Mine would be Kruder & Dorfmeister's halcyon mid-1990s DJ Kicks mix or Roots Manuva's selection for the Back to Mine series (not strictly a mix but for the coherence of the musical journey it travels, it functions in the same way).
And then there's this. It's a mix that's been bubbling around my ipod for at least the last 5 years or so, since my friend Citizen Smith, the purveyor of all things musically sound, lobbed me a copy. It went on heavy rotation all that summer and seeped into my consciousness so seductively I never bothered to find out much about it. I knew Gregory Isaacs's Raving Tonight and recognised the tones of Yellowman  but other than that it just sat in me yard as a very very fine mix, til it bounced back on random play a month or so ago and I finally decided to seek out its origins. It was to my surprise I discovered it had been put together by dubstep legend Grievous Angel, alongside John Eden, whose Uncarved blog was to provide the source for a host of subsequent musical discoveries, mostly revolving around the UK reggae scene of the mid 80s and its stalwarts like Papa Levi, Asher Senator and Smiley Culture.
It's certainly a mix like no other. Every track is a winner, without question, each and every one of which I'd love to own on vinyl. The tunes are batched together under the same riddim, lending it wicked cohesion. The Jamaican roots and dancehall slowly gives way to the sound of 80s UK fast chat so it just becomes that bit edgier, grimier if you like, as the mix crosses the Atlantic and brings us a step nearer the hardcore and jungle sounds that would envelop the UK in the next decade. Eden and Grievous hold the whole thing together brilliantly, GA providing the deftest of touches with the effects unit … just listen to the sirens smattered over Raving Tonight or the well-placed bass-kills that take everything next level when the low-end crashes back in.
In amongst the rhythm batches two tunes stand alone, giving respite before the mix goes in hard again. One is the aforementioned Raving Tonight, Gregory Isaacs' most enduring legacy and one that encapsulates the bi-polar nature of much of the late roots / early dancehall scene (see also Don Carlos & Gold's Go Find Yourself , Dennis Brown's Weeping & Moaning, Cornell Campbell's Boxing etc) Play it low and it's a smooth, seductive lady-killer, one for a hazy summer afternoon or a romantic evening. Turn it up with the bass up high and it becomes something utterly different, a hard-as-nails chest-rattling sound system killer. Try it at home. You'll see (and annoy your neighbours). Talking of which …
I was surprised to see that Tippa Irie's Lyric Maker, which gives the mix its title, came out on the flip side to the 12″ of Complain Neighbour, which featured on Soul Jazz's excellent compilation An England Story. Complain Neighbour is a cartoonish, almost comedy record which musically doesn't hold a candle to its B side, but does contain the immortal lyric "everybody in the dance did under liquor / and even me granny did a drink vodka" and for that reason alone is a thing of greatness, as well as an essential historical document of the cultural chasm that still existed between black and white Londoners in the 1980s. As said though, it's the B side that rules the dance and Meme doesn't hold back in his assessment  – "one of the greatest records ever made". 
Grievous Angel provides a detailed commentary on the mix on his blog, which has hours and hours of essential music, including loads of other great mixes, one of which Grime in the Dancehall (also with John Eden) runs this one fairly close and currently occupies prime position on my car stereo. Meme's unabashed love for the tunes is infectious and there's no hyperbole in his pronouncement that the music in and around this mix constitutes "THE GREATEST MUSIC EVER MADE" Fitting then, that this might just be the greatest mix ever made.